If any of your questions are not answered below, please call us or send a text message to (301) 249-2635 or send us an email at my3dbaby@gmail.com.
What is an elective prenatal Ultrasound?
We offer elective 2D, 3D & 4D prenatal Ultrasounds to provide a positive bonding experience for the mother, father and family members with the unborn baby. We feel that realistic surface images provide a connection between the parents and baby that can be beneficial to the whole family. We make no claims that 3D as used in this examination is performed to better assess the baby for abnormalities.
Does this take the place of an Ultrasound at my doctor's office?
No. Women seeking an elective prenatal Ultrasound with That's My Baby Ultrasound must already be receiving treatment with a healthcare provider for prenatal care. At no time should our services be used in place of a complete diagnostic Ultrasound.
Is it safe? Are there any risks to me or my baby?
Extensive studies have found that Ultrasound has not been shown to cause any harm to mother or baby. Routine scanning of all pregnancies is now normal throughout the United States and overseas-- especially for high risk pregnancies. For 3D/4D scanning, exactly the same type of sound waves and intensity of Ultrasound is used as with conventional 2D scanning. 3D and 4D Ultrasound will be similar to a conventional scan in terms of exposure.
What is the difference between 3D and 4D?
3D is the picture and the 4th dimension is movement.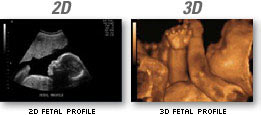 How long does the 4D Ultrasound take?
Depending on the package you choose, your session will last about 15-30 minutes. Please plan on spending about an hour with us as we have to prepare your printed pictures and/or USB. Also, we are sometimes running behind as the babies can be a bit stubborn. We know you will appreciate us taking our time for your session as well as the sessions before you.
How far along should I be before I have a 4D Ultrasound?
If you plan on having only one 4D Ultrasound session, we would recommend coming in any time after the 27th week of the pregnancy. However, you are more than welcome to come in any time starting at your 15th week of pregnancy. (If you were fuller-figured before pregnancy, you may want to come for your 3D/4D session later in the pregnancy -- 30-34 weeks -- but gender at 15+ weeks is fine.) If you are having TWINS, we recommend around 26-30 weeks into your pregnancy.)
How far along is too far along for an Ultrasound?
You are never too far along for us at That's My Baby Ultrasound. Well, unless you had your baby! Remember, great pictures are achieved by having good levels of amniotic fluid. The myths about baby being "too low" or "not having enough room" are just plain not true. We do 36+ weeks all the time. No matter your stage, we will try our hardest to provide the best pictures possible.
Will I always get a beautiful picture of my baby?
Hopefully, but not always. Every baby scans differently, depending on its gestational age, position, amount of fluid, and mother's condition. We promise to make every effort to obtain the best possible images of whatever parts of the baby that can be seen. Unfortunately, we cannot make any guarentees that the images will be similar to those you might have seen elsewhere or even from our office, or that we can always meet everyone's expectations.
Can I do anything to help get a great picture/have a great session?
You can help by staying hydrated. The clarity of the picture depends on the amount of amniotic fluid present around whatever we are looking at. By staying hydrated, you can help keep your amniotic fluid levels up. Please drink at least 64oz of water a day in the week leading up to your appointment. Also, if you notice baby gets active after eating/drinking anything in particular, please do that on your way to your appointment. If possible, try to schedule your appointment during a time when baby is most active.
Do you need a full bladder?
No. Please use the restroom when you come in so you are comfortable during your session.
What if my baby doesn't cooperate at all?
We try our best to get baby in a great position for pictures but it is their world and sometimes all we get is their backside. If your baby is completely uncooperative (meaning: we get no face pictures at all), you will be charged $50 for your visit - which you will receive as a credit for a one-time second try.
Can I bring my family and friends?
Of course! In fact, we encourage our clients to invite family and friends to attend the session. We can comfortably accommodate up to 9 people but there is plenty of room for more. Children of any age are welcome. Everyone will have an excellent view of the images of your baby.
Are your offices handicap accessible?
No. You will have to climb one set of steps to reach our suite.
How many pictures are on the USB of Photos?
It all depends on how well baby does. We do not promise a set number of pictures. It could be 20-100+!
Are you able to tell the gender of the baby?
Yes. And we will not tell you the gender unless we are sure! If you are coming for a 2D or 4D gender session and we are unable to find out the gender, you pay for your session but are able to come back for free in a week or two for another quick peek. You can come in any time after you reach the 15th week of your pregnancy for gender determination. (Yes, you can be 15 weeks exactly to come in.)
Is it easier to tell the gender in 3D/4D?
No. We actually find the gender in 2D no matter what the stage of pregnancy you are in. The 3D/4D is strictly so you can see what the baby "looks like".
What if I DO NOT want to know the gender of our baby?
No problem. We just ask that you come in later in your pregnancy - after 27 weeks - so that we can focus on the face and upper body without revealing the gender. Doing a gender reveal party? We ask that you keep guests to a minimum as to not have anyone "peek" at the gender during the scan.
Is elective Ultrasound covered by insurance?
No, insurance does not cover the costs of our Ultrasounds. But, you may be able to get reimbursed through your flex spending account. Since this is an elective procedure and is not intended to be a replacement for your doctor ordered Ultrasound, you will need to pay the cost of this Ultrasound as an out of pocket expense.
How can I pay for my session?
We accept credit and debit cards. Flex-spending credit cards should be able to be processed as well. We just asked that you have a back up form of payment in case it is declined.
Do you offer gift certificates?
Yes - please email or text us so we can walk you through purchasing process.
How much does it cost?
We have packages to fit just about any budget. Please refer to our Ultrasound Pricing page for more information on available packages.
Is That's My Baby Ultrasound on Facebook?
Yes, check us out! That's My Baby Facebook Page
 
Would you like to make an appointment? Click here!